Just Eat Dublin Bikes is one of the most successful bike rental schemes in the world, with almost 69,000 subscribers and 19.8 million journeys since its launch. On its busiest day on 16th September 2016, 18,041 journeys were made in one day.
The scheme is a partnership between Dublin City Council and Just Eat and currently has 1,500 bikes available at 101 stations around the city. The scheme has been a huge success since its launch and this is partly down to the careful selection of the station locations, the high level of maintenance of the bikes, as well as the low annual fee.
"I think Dublin Bikes is fantastic!! I moved a bit further away from the city centre (~35 mins walk) so Dublin Bikes has become my main form of transport next to walking."
"I  love Dublin bikes. It allows me to walk my son to school and get to work on time. I can now incorporate exercise into my daily routine as well as saving time travelling. I feel grateful every time I use a bike, I use them for getting to meetings in town, and I actually look forward to the cycle in the evenings when before I used to dread the traffic. The best €20 I have spent in years. Dublin bikes have been great for fitness and my mental health." Tracey Carney, Event Director, Ashville Media
To minimise the effect that noise pollution has on people as they go about their daily lives. To do this, we consider the source of sounds and the number of people likely to be affected
Just Eat Dublin Bikes Scheme – How it works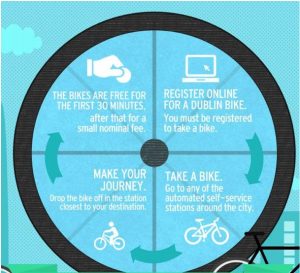 To use Just Eat Dublin Bikes, you must sign up as a member.
Annual subscribers pay just €25 a year
Visitors buy a 3 day ticket
Whichever option you choose, you can take a bike from one cycle stand, make your journey across town, and drop the bike off at your destination. The first half hour is free, which is a great incentive to pedal hard, and burn off some extra calories while you're at it!
After half an hour, some fees kick in, but they are little ones – honest!
50c for an hour
€1.50 for two hours
€3.50 for three hours
€6.50 for four hours
After that, every extra half hour is €2
Due to its popularity, we plan to expand the scheme into other areas of the Dublin region.