A desire to find a way to improve the efficiency and effectiveness of urban deliveries, whilst reducing congestion, improving air quality, reducing noise pollution and increasing road safety, were the stimuli behind the Last Mile Delivery Small Business Innovation Research (SBIR) pilot.
Co-funded by Enterprise Ireland and Dublin City Council, in partnership with Belfast City Council, the pilot kicked off Phase One in late 2018 with six companies successfully securing funding to test their solutions, and a number of test sites selected in both Dublin and Belfast.
Phase 1 Companies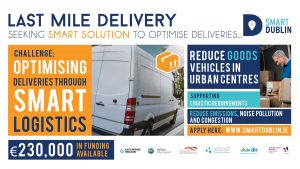 A wide range of solutions were explored in throughout Phase One. Some companies looked to provide consolidation hubs from where deliveries into the city centre in green transport modes could be made, such as e-vehicles, e-bikes and cargo bikes.
Other companies investigated the use of new technologies to digitise and better manage loading and unloading. For example, apps were trialled which enable drivers to book kerbside and loading bay spaces, a potentially big improvement on the static, non-bookable, single and double yellow lined we have at present. Such apps could also be used to enable better management of parking in the city, by anticipating or responding in real time to events and adjusting parking availability or price accordingly.
Yet another solution, hailing from Australia, is designed to promote crowd-source deliveries. The idea of 'shoppers delivering to shoppers' would see an individual calling by a store to collect their neighbour's purchases whilst in the area anyway for leisure or work, and delivering to their neighbour on their way home for a reward- all within a three-hour delivery timeframe. Lastly, another company designed and developed new prototypes of pedal powered and walked delivery vehicles, these will allow for the trialling of new forms of low emission deliveries in the inner city.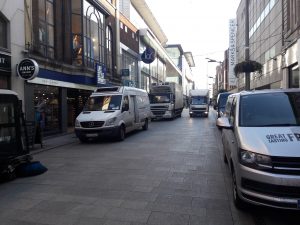 Learnings from the pilot have been numerous and valuable such as, the needs to upgrade parking bye-laws to reflect technological advancements and that stakeholder engagement and buy-in from local businesses is key when trying to better manage delivery logistics. With significant opportunities for Last Mile Delivery improvements identified, five of the six companies have progressed to Phase Two and will have access to test sites in Dublin and Belfast to continue working on and validating their Last Mile delivery solutions. More updates to follow from Phase Two in Q4 2019.