Real Time Passenger Information (RTPI) has made using public transport easier, more efficient, and more enticing. Why? Because it provides valuable information for transport providers and for anyone, who wishes to use this data in their apps.
For most people, RTPI means nothing more than being able to look at the overhead display at a bus stop to see when the next buses will be arriving. However, web apps developed using RTPI information can now help citizens to calculate the most efficient way to travel from A to B; they do this by combining data from different modes of transport, the latest information on traffic delays and interruptions, and transport capacity, right across the country.
The Real Time Ireland App allows you to set-up alerts and transport notifications before you leave the house to begin your daily commute. The result is that, by notifying you 10, 20 or 30 minutes before the bus reaches your selected bus stop, there is no more waiting around in the rain!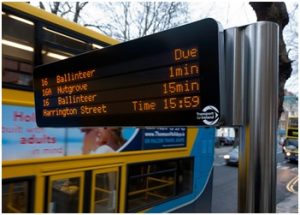 Having reliable, real-time information about the next bus, tram, or train allows passengers to plan their journey and use their time more productively. As a direct result of smart-tech initiatives such as this one, bus passenger numbers are continuing to increase year on year, as more and more commuters see public bus transport as an efficient alternative to private car ownership.
How does RTPI work?
Dublin Bus, Luas and Irish Rail all use Automatic Vehicle Location (AVL) to track movement in real-time. The AVL data is fed back into the central RTPI server and subsequently into display panels at public transport stops. The server can be queried to know which services will be stopping – and at what times – and the data received can then be filtered by route and operator.
The RTPI data is freely available to developers, researchers, and commercial interests via an API available on Dublinked.ie. API users can retrieve timetable information by date and the real-time route of a vehicle. Real-time data is also used by transport apps such as Transport for Ireland's Real Time Ireland and Journey Planner, the Dublin Bus app, and several other third-party commercial apps.
RTPI is under the remit of the National Transport Authority, responsible for transport in Ireland.  However, it started as a project for Dublin Bus in 2008 developed by Dublin City Council in collaboration with IBM.   At present, the RTPI system covers Bus Éireann, Dublin Bus, Luas, and Irish Rail.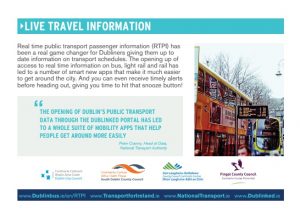 You can find the app through these links:
https://www.transportforireland.ie/available-apps/ (Website)
https://itunes.apple.com/ie/app/real-time-ireland/id590250800?mt=8 (iPhone)
https://play.google.com/store/apps/details?id=com.osds.rtpi&feature=search_result (Android)
https://www.microsoft.com/en-ie/store/p/rtpi/9nblggh0k0tp?rtc=1 (Windows Phone)