Welcome to the Dublin Region Climate Action Open Data Challenge 2022
The Open Data Climate Action Challenge is closed for applications as of 10th May 2022
About the Challenge
The Dublin Region Climate Action Challenge seeks innovative ideas and applications that use open data to drive and support climate action. Participants have an opportunity to showcase their work, achieve recognition, attain prizes and help drive climate action in Dublin and beyond. Entry is open to individuals and groups of all ages and backgrounds.
Why this Challenge?
The Challenge organisers realise human induced climate change is the most pressing concern of our time. Yet it is a complex issue with many interdependencies and uncertainty, necessitating broad participation in potential solutions. However, developments in knowledge, technology and modes of communication enable new opportunities to understand and address its causes and consequences. Data, modelling and visualisation are key to such developments and play a significant role in measuring emissions, calculating offsets, locating adaptive interventions, etc. Some of this data is available openly, for example as open data published on the Dublin region and National open data portals.
What are we looking for?
We are looking for solutions which use available data for analyses, applications, tools, maps, etc. to drive or support climate action in some shape or form. All data-based proposals with the potential to contribute to climate action are welcome. These may align with the Climate Change Action Plans 2019-2024 five themes:
Energy & buildings: e.g., how can existing data and analysis for energy and buildings be used to increase engagement of citizens and businesses in climate action? What are the opportunities for visual representation of renewable energy consumption/microgeneration/energy efficiency potential of buildings? How could the energy transition transform the lives of citizens?
Nature Based Solutions & Biodiversity: nature provides valuable ecosystem services such as clean air and water, food and medicine, recreation, and climate regulating services (i.e., temperature). How can we use data to protect, improve and increase access to nature and realise the multiple benefits of NBS and biodiversity while increasing resilience to climate change?
Flood Resilience: e.g., how will increased rainfall, extreme weather events, sea level rise and coastal erosion affect the Dublin region? How will changing coastlines impact on coastal communities? How can data and its applications increase awareness of various forms of flooding, and inform interventions such as Sustainable Urban Drainage Systems, Green Infrastructure and other climate resilient solutions?
Transport: e.g., how can data be used to help drive the uptake of active travel, public transport or other shared mobility (e.g.) car sharing? How can data/solutions inform the locations for remote working hubs and increase the awareness and usage of remote working hubs? How can data inform/influence targets around the switchover to Electric Vehicles?
Resource management and circular economy: we must transition from our existing take-make-waste system to a circular economy. How can data help monitor this transition (e.g.) improve recycling levels or reduce waste by households and businesses? How can data help encourage sectors to become more circular? Can we demonstrate how moving to a circular economy will impact on climate change?
Your project could help visualise or benchmark progress toward climate action goals within or beyond these themes. We are also interested in how open data can help us connect with and inspire action from our citizens and communities. For example, is there scope for cooperation between citizen science and official published data to drive climate action? What does a 'day in the life' climate impact by citizens look like and how can data help us take climate informed decisions (e.g.) when shopping, travelling, eating and drinking, etc.? Finally, we recognise that climate action requires collaboration so we encourage solutions that are interdisciplinary and contribute to a just transition. This means taking into consideration factors such as age, gender, race and socio-economic status, to ensure the impacts of proposed solutions are inclusive and equitable. We also encourage diversity in the individuals and teams participating in the Challenge.
Where to find relevant data?
National organisations such as the EPA, SEAI and the CSO are responsible for much environment-related data management and publishing. Significant holdings of environmental data from these and other bodies is available via the national open data portal at www.data.gov.ie, datasets specifically relating to Dublin can be accessed via the Dublin region open data portal: www.data.smartdublin.ie and the European open data portal provides another potential resource: data.europa.eu. Depending on the proposal, relevant data sources might include: weather/ climate data and future projections (e.g. from Met Eireann); Flooding and coastal mgt. data (local authority/ OPW); GHG emissions (e.g. EPA, Codema) air quality and noise (local authority/ EPA), biodiversity (National Biodiversity Data Centre), land use and remote sensing data (OSI, local authority, others), tree surveys/ canopy cover (LAs, OPW, UCD) and from the Copernicus Earth observation programme. If you are aware of or have access to other sources of data, maps, etc you are welcome to use them. But your proposal must also incorporate an element of open data too. If there is data you would like to use but have difficulty accessing, let us know and we can see what data can be made available.
Where can I get ideas or inspiration?
Last year we ran an Active Travel Open Data Challenge where a number of new tools and applications were created, and other pre-existing tools were extended and improved in terms of their features and functionality. Some examples include:
Maps:
The Active Travel to School tool, created via the challenge, uses CSO data to highlight neighbourhoods where students do and do not actively travel to school, showing transport planners where to focus efforts for active travel friendly urban routes and interventions: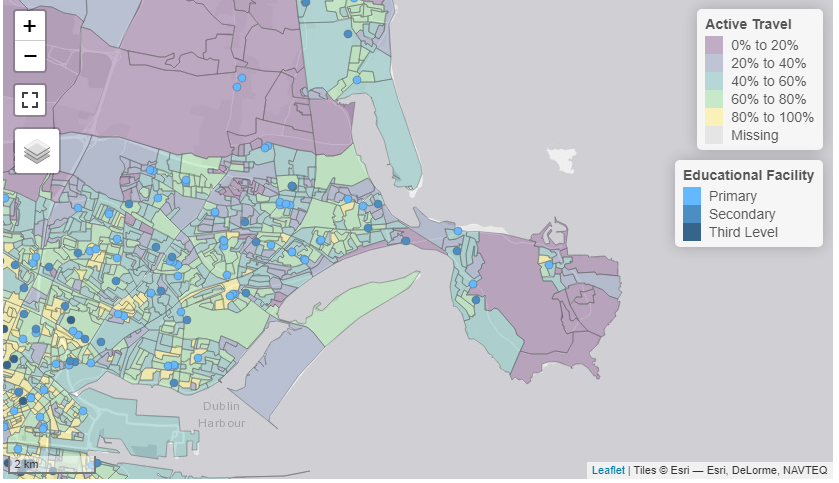 Apps:          
Widen my Path: functions as an engagement tool that allows users to 'design' active travel friendly environments and weigh up the pros and cons of different interventions. This app was expanded to include Dublin and significantly improved through the challenge.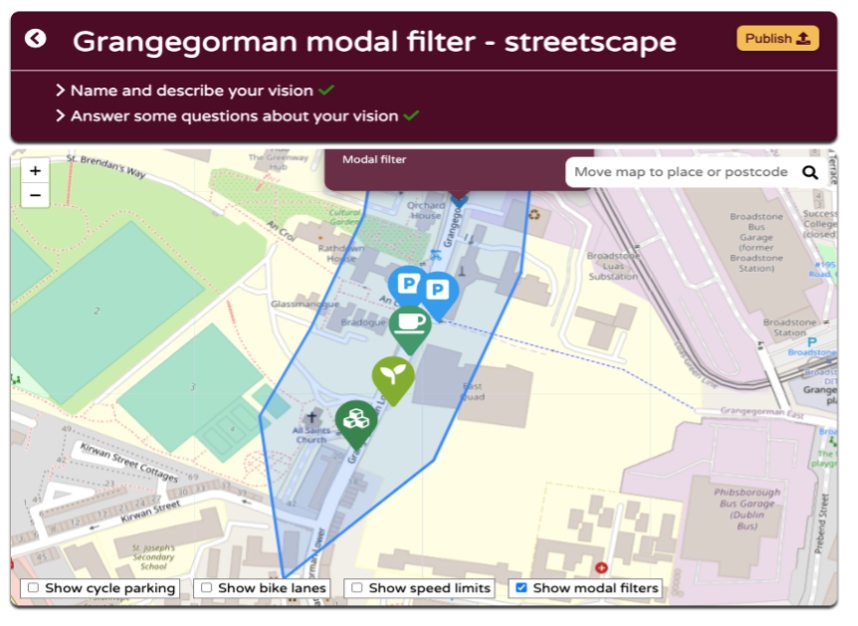 Analyses:
The Not Made of Sugar project analysed the impact of weather conditions on active travel commuting choices and devised an incentives programme to try to nudge behaviours on poor weather days.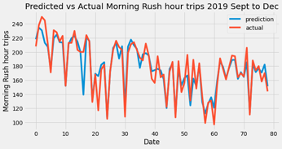 Algorithms:
Safepoints developed a routing algorithm using public lighting datasets to guide cyclists and walkers on the best lit routes. The idea was to provide an open API for use by route planning applications such as Dublin Cycling Buddy.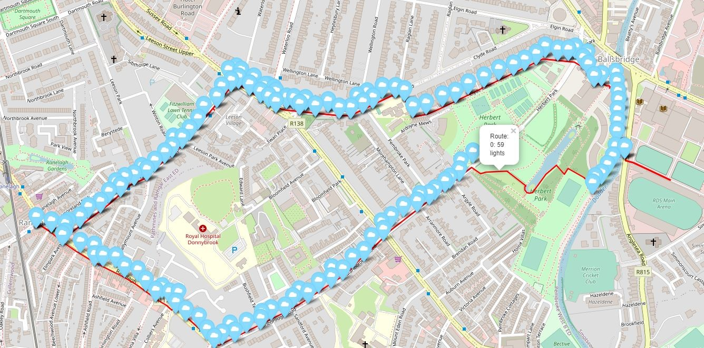 The above examples are intended to illustrate the types of tools and applications which can be created with open data from CSO, NTA, Met Eireann, local authorities and other public bodies. They are in no way intended to constrain your ideas regarding what you would like to do, indeed we encourage thinking outside the box and welcome as broad a range of innovative ideas as possible.
How to apply?
This Challenge is open to individuals, teams and organisations of all ages and backgrounds. Applicants may also apply more than once with different ideas. Your solution or project may involve creating something new, or developing a pre-existing initiative or application.
Applications closed on the 10th May at 11:59 p.m.
How will my entry be evaluated?
While combining data from difference sources is welcome, entries must employ at least one open dataset from the Dublin region or National open data portals to qualify. Once eligibility is confirmed, entrants will be scored up to a maximum of 100 points using the following schema:
Showcasing the use of data including open data (25 points)
Impact potential for climate action (25 points)
Feasibility of proposal/practicality to deliver/capabilities of applicant(s) (25 points)
Originality/Innovation/Diversity (25 points)
The Challenge timeline
Applications close on the 10th May. Successfully shortlisted participants are then given eight weeks through May and June to turn proposals into projects and develop and deliver their solutions. During this period advice and support will be provided by the Challenge organising committee. At the end of the Challenge participants provide a short report and presentation of their work.
Prizes
All projects which are successfully shortlisted and complete the Challenge will be awarded €1000 (to the value of). In addition, the most innovative, engaging and practical solutions will be awarded the following:
First Prize: €5,000 (to the value of)
Second Prize: €3,000 (to the value of)
Third Prize: €2,000 (to the value of)
Aside from recognition, prizes, and an opportunity to drive climate action, participants benefit from advice and feedback to progress their solutions. There may be also be an opportunity but no obligation on the organisers to continue to engage with participants beyond the end of the Challenge. Prizes will not be awarded to representatives from the organising partners' organisations.
Who are the Challenge organisers?
This Challenge is organised by Smart Dublin, the Climate Action Offices of the Dublin Local Authorities (DLAs): Fingal, Dún Laoghaire-Rathdown, South Dublin and Dublin City; the Dublin Metropolitan Climate Action Regional Office (CARO), Codema, and Derilinx. Funding is provided by these organisations and from DPER's Open Data Engagement Fund.
Contact
For more information, contact Luke on luke.binns@smartdublin.ie.
Find us on social media using #ODCAC