Following the success of the Smart Dublin Cycling Challenge we are launching three new SBIR competitions in partnership with Enterprise Ireland.
We are now looking for smart, low-cost, innovative solutions to tackle the problem of illegal dumping, to monitor and predict blocked gullies in high-risk flooding areas, and to design wayfinding solutions in the Dublin region.
The aim of this flooding challenge is to use the latest and smartest technology to maximise the use of limited resources by monitoring gullies, especially those in high risk areas. This will be achieved by implementing a system that provides real-time information during a flood event to provide Dublin's four local authorities with an opportunity to deploy resources to the areas that need it most.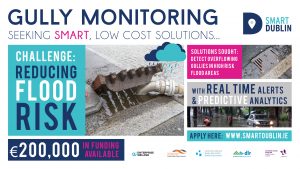 Roy O'Donnell, Gully Manager, Environment and Transportation, Dublin City Council "We, in the Surface Water and Flood Management Division, are delighted to be involved in the launch of this SBIR challenge. It is an exciting time for us in DCC, where in cooperation with innovative companies, we can improve the real time information gathered and target our responses to potential flood events. This will help to, improve the quality of our service delivery and reduce the fear and worry for citizens that have had the the misfortune to have suffered at the hands of a flood."
A briefing session for all prospective applicants was held on 12th May 2017; this provided the opportunity to discuss the requirements of the brief with Enterprise Ireland and Smart Dublin.
The challenge is open for applications until 12th June 2017 at noon.