What is Smart Dublin?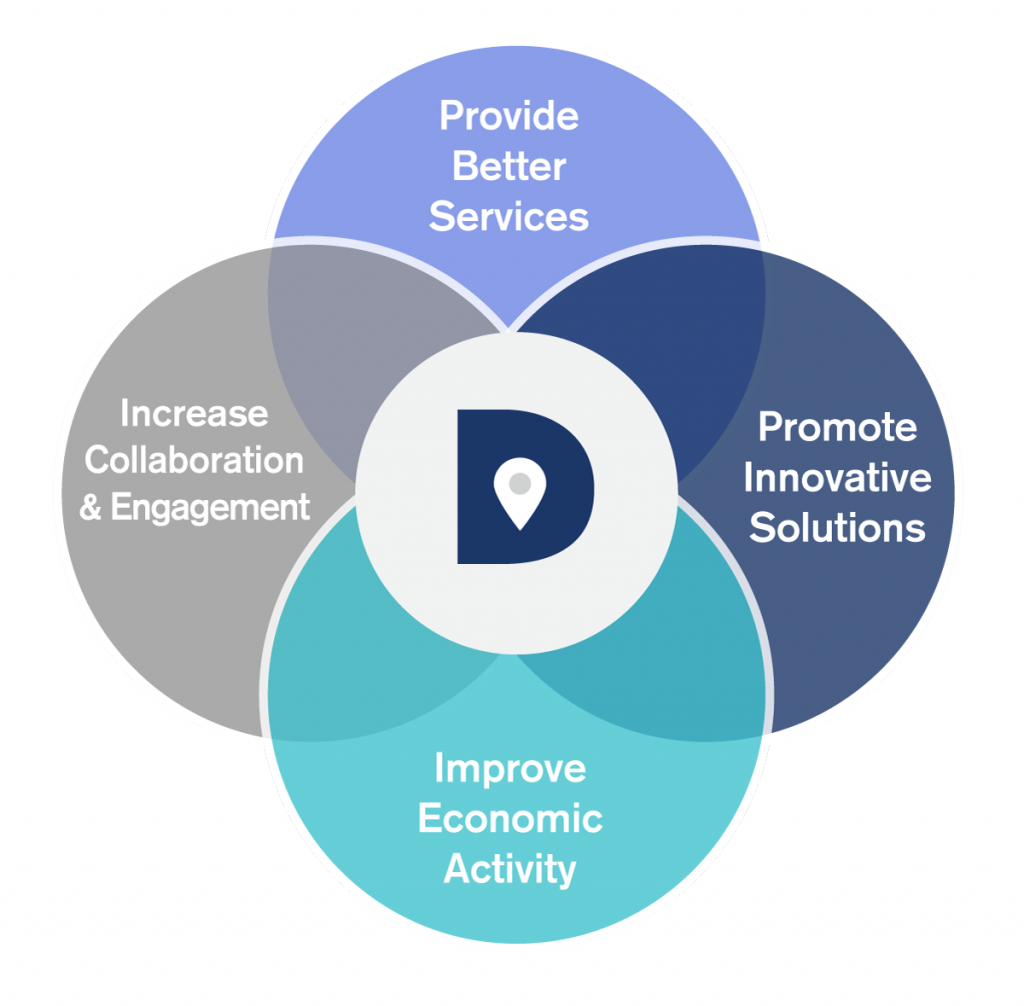 Smart Dublin is an initiative of the four Dublin Local Authorities to engage with smart technology providers, researchers and citizens to solve challenges and improve city life.
We aim to position Dublin as a world leader in the development of new urban solutions, using open data, and with the city region as a test bed.
Objectives
Provide Better Services – To develop, drive and facilitate public services which are better, easier, more efficient and accessible for citizens.
Promote Innovative Solutions – To provide new, innovative and better solutions to existing and future challenges which impact our citizens, businesses and visitors.
Improve Economic Activity – To support regional economic development by helping to create an ecosystem that attracts and provides opportunities for entrepreneurs, investors and businesses, and communicates this to the wider world.
Increase Collaboration and Engagement – To create effective internal and external collaborations and partnerships with local authorities, other public sector organisations, academia, external agencies, businesses, citizens and international partners.
Benefits of Smart Dublin
Acts as a reference site to validate smart city technologies
Move from research to reality
Builds a collaboration framework to solve Dublin's challenges
Delivers more efficient  city services
Increased engagement with citizens and service users
Enhances the quality of life
Smart Dublin is delivering a programme that encourages the creation of solutions to address city needs. It has an emphasis on using the opportunities offered by emerging technology and public data. Smart Dublin has identified mobility, environment, energy, waste and emergency management as priority challenges.
Internet of Things
The Internet of Things (IoT) is central to a smart city where everyday objects are connected to the Internet allowing useful information to be communicated to other objects, machines or people. For cities this means  for example more intelligent cities with better connected citizens, infrastructure, vehicles and buildings.
"The Smart Dublin vision is a mix of data-driven, networked infrastructure, fostering sustainable economic growth and entrepreneurship, and citizen-centric initiatives, with a particular focus on improving city services" Rob Kitchin, Programmable Cities, Maynooth University
Collaborators
The success of Smart Dublin is built on partnerships. We have strategic relationships with our collaborators where we are collaborating to put Dublin on the map.
Get involved
We believe that collaboration is the best approach to find innovative solutions to Dublin's challenges. If you are working on a smart city solution and would like to test it in Dublin, we would like to hear from you.