What is Smart Dublin?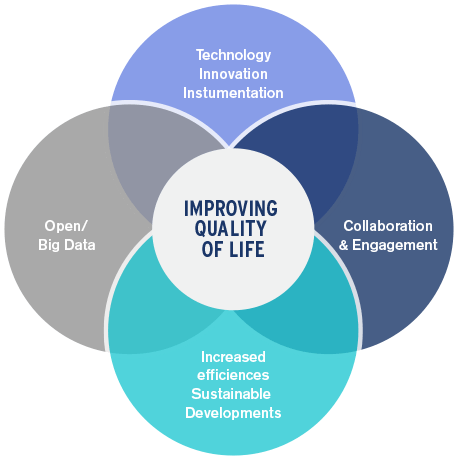 Smart Dublin is an initiative of the four Dublin Local Authorities to engage with smart technology providers, researchers and citizens to solve city challenges and improve city life.
We aim to position Dublin as a world leader in the development of new urban solutions, using open data, and with the city region as a test bed.
 Objectives
To stimulate the economic competitiveness of the Dublin Region, through collaboration between private, public and academic partners.
To drive public sector efficiencies and improve services by using the Smart Dublin platform to call out for innovative solutions to identified city region challenges
To promote transparency and open government through the publication of local government data on the Dublinked open data portal in open, free and reusable formats
Benefits of Smart Dublin
Acts as a reference site to validate smart city technologies
Move from research to reality
Builds a collaboration framework to solve Dublin's challenges
Delivers more efficient and responsive city services
Increased engagement with citizens and service users
Enhances the quality of life
Smart Dublin is delivering a programme that encourages the creation of solutions to address city needs. It has an emphasis on using the opportunities offered by emerging technology and public data available through Dublinked- Dublin's open data platform. Smart Dublin has identified mobility, environment, energy, waste and emergency management as priority challenges.
Internet of Things
The Internet of Things (IoT) is central to a smart city where everyday objects are connected to the Internet allowing useful information to be communicated to other objects, machines or people. For cities this means more intelligent cities with better connected citizens, infrastructure, vehicles and buildings for example.
"The Smart Dublin vision is a mix of data-driven, networked infrastructure, fostering sustainable economic growth and entrepreneurship, and citizen-centric initiatives, with a particular focus on improving city services" Rob Kitchin, Programmable Cities, Maynooth University
Collaborators
The success of Smart Dublin is built on partnerships. We have strategic relationships with our collaborators where we are collaborating to put Dublin on the map.
Get involved
The success of Smart Dublin will depend on your input. Dublin's challenges can only be solved through collaboration. You can share your smart stories, take part in challenges or sign up to the mailing list for the latest news. We will be issuing specific calls for solutions and open challenges where people with ideas may receive access to seed funds, city expertise and a testbed infrastructure.