From excessive congestion to poor air quality, reliance on private cars in urban centres can have a host of negative impacts on how we experience our cities. In an effort to reduce staff reliance on private cars, Dublin City Council in 2018, launched "The Smart Mobility Hub Challenge"; seeking low-cost, innovative solutions that would test shared mobility options for staff via the piloting of a mobility hub.
The challenge, launched through Enterprise Ireland's Small Business Innovation Research (SBIR) programme sought solutions that facilitated a pool of shared vehicles, integrating push bikes, e-bikes, ride-sharing and e-cars.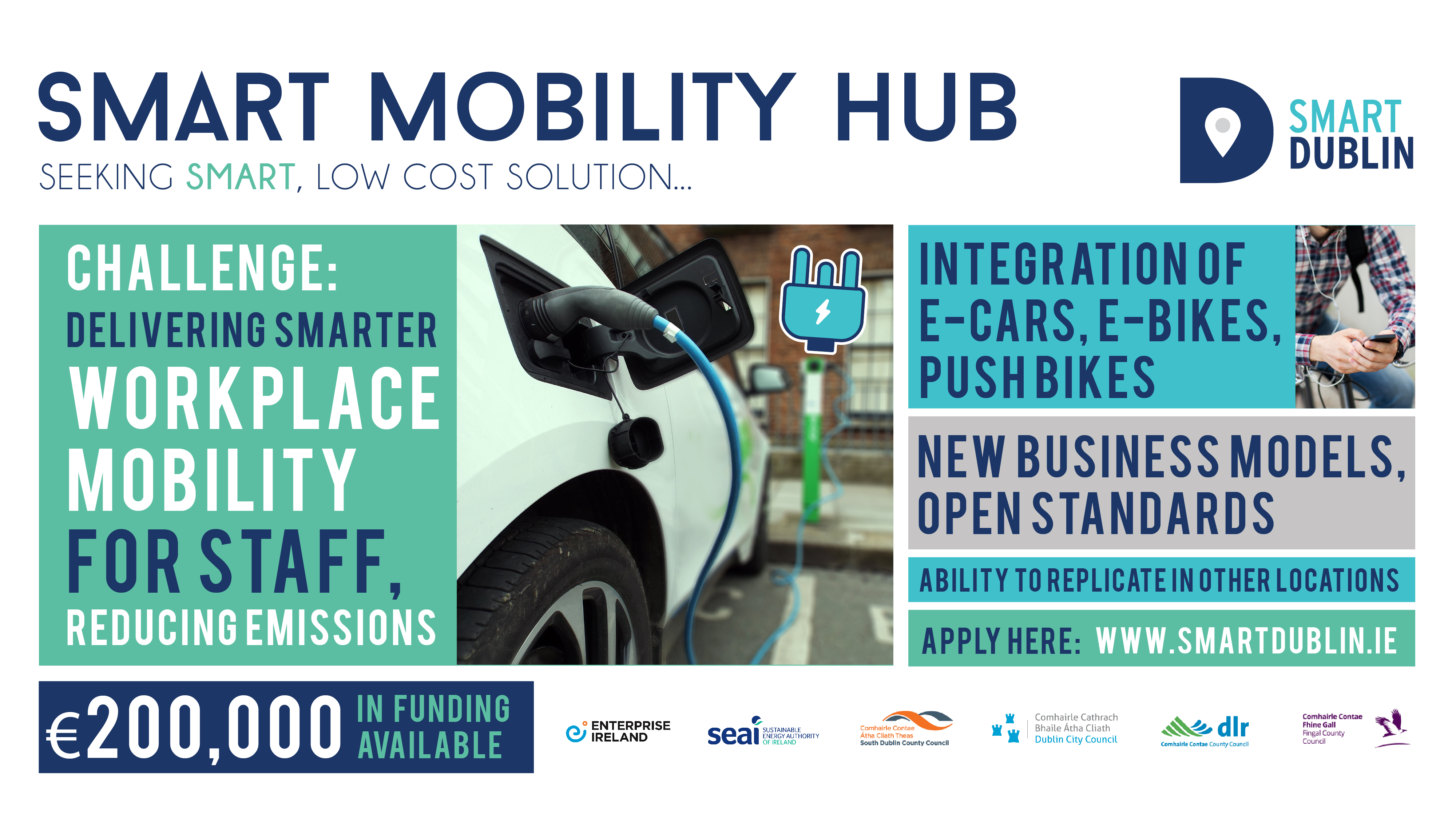 The Smart Mobility Hub project sought to deliver on a number of objectives:
Providing green multi-modal mobility options for staff required to go off-site during the working day, thereby reducing their need to commute to work in their personal cars
Decreasing congestion in the city
Improving air quality in the city
Setting an city-wide example on how to best manage staff mobility
Providing a replicable template for public and private sector organisations alike

Following a call to the market in early 2018, five companies offering a variety of innovative solutions, successfully secured funding for a Phase One pilot.
Along with Dublin City Council's Wood Quay, Civic Offices, both Fingal County Council offices and Dun Laoghaire County Council offices, were also selected as test beds, with the booking of existing assets being managed by bespoke apps, and, in some cases, additional assets being offered for the duration of the pilot.  Overall, e-cars, e-bikes and push-bikes make up the options being offered to staff.
The Dublin City Council Mobility Hub was officially launched in May 2019 and has been met with significant positivity from staff.  Over a 100 expressions of interest have been submitted from staff to participate, and over 75 staff members have been fully trained and registered for the service. The added e-bikes have proven very popular with staff members making trips around the city that would take far longer in a car given city-wide congestion.
A very welcome innovation is the fact that keys are no longer required to access the cars – the app or staff ID card does this – which means that staff no longer need to pop into the Facilities Office before and after a trip in order to pick up and drop off keys.  Seamless, efficient management is what it's all about.
Phase Two of the pilot will begin later in 2019 to further develop the solutions and expand the current test beds. Stay tuned for more updates.