Fingal County Council  and Cork City Council seek smart solutions to encourage engagement of the 'unheard voices' in decision-making about the future of their place.
Communities of stakeholders are diverse, have different levels of confidence and may require support to articulate their different socioeconomic, cultural and environmental needs throughout the entire engagement process. Traditional participatory practices, such as consultation events, have not always been successful in actively involving all. Innovative approaches to foster citizen engagement and facilitate the co-creation of solutions for the common good are required to assist the work of the local authorities.
Inclusivity is essential to successful planning and the challenge that local authorities have is finding ways to identify and track down the people who are silent i.e. the unheard voices, to select the appropriate dialogue methods, be innovative, and look for methods which people find enjoyable in order to inclusively engage.
Speaking about the SBIR Challenge 'Unheard Voices' AnnMarie Farrelly, Director of Services, Fingal County Council said: "The initiative provides an exciting opportunity for local authorities to explore innovative methods to inclusively engage and, to also, provide support to different communities of stakeholders in articulating their needs throughout the engagement process. It is hoped that going beyond the range of conventional communication and public consultation methods will help to actively involve all communities in discussions about the future of their place".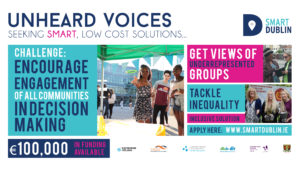 The challenge is open for applications until the 11th of June at 12 pm (noon).
Click here to see the Invitation to tender on etenders  
There was a briefing session for all prospective applicants on the 16th May. It provided the opportunity to discuss the requirements of the brief with Smart Dublin and Enterprise Ireland.   See the presentations below.
Enterprise Ireland's Small Business Innovation Research (SBIR) initiative aims to create partnerships between SMEs and public bodies to develop innovative solutions to public needs through competitive challenges. These challenges are co-funded by Enterprise Ireland and the relevant public-sector body. Since the first challenges were launched in 2016, the initiative has been gaining traction – 10 challenges are currently running across contracting authorities nationally, with 11 new challenges launching in 2018. See www.enterprise-ireland.com/sbir for further information.