Smart Dublin at FutureScope 2019
Back to News, Blogs & Events
For the second year running, Smart Dublin were delighted to take part in FutureScope 2019 showcasing the wide range of innovative and smart initiatives taking place throughout the Dublin region.
FutureScope, supported by Dublin City Council, is Ireland's number one innovation event dedicated to exploring new business opportunities arising from emerging technologies, such as artificial intelligence, AR/VR, data analytics, IoT and 5G. The one-day event at Dublin's Convention Centre included a host of excellent speakers from the world of innovation and demos from some of the most exciting companies operating nationally and internationally.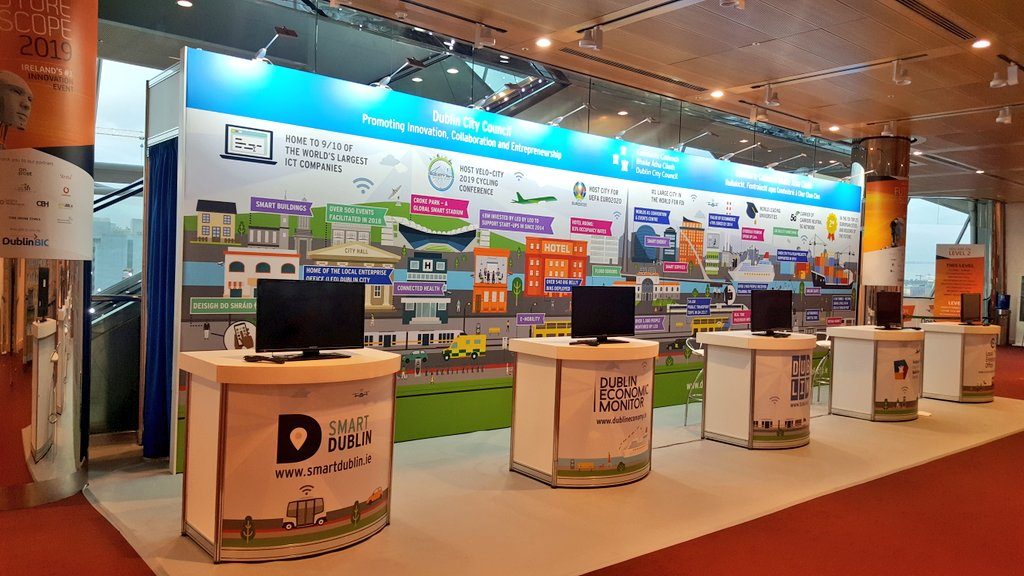 DCC's Smart City's Programme Manager Jamie Cudden took to the Collaboration Stage to facilitate a fascinating panel entitled "Dublin is Getting Smarter". With reps from our partners at Microsoft, DCU Alpha, Enable Research TCD and Dynamic Labs UCD, the panel explored how we can use smart technologies to improve city liveability and what interesting developments are currently happening throughout the region to position Dublin as a global, smart-city leader.
On the Innovation Stage, Smart Dockland's Programme Manager Michael Guerin convened the "Dublin Docklands – A living lab for 5G powered innovation" discussion, with contributions from some key industry partners including Dense Air, Dogpatch Labs and See-Sense, highlighting the exciting projects taking place in Dublin's heartlands.
Later on the Innovation Stage, Smart Dublin Lead Alan Murphy shared our hugely successful experience as part of the Enterprise Ireland SBIR programme – the national innovation initiative aimed at driving innovation across all sections of local government via robust engagement with technology-rich companies and organisations.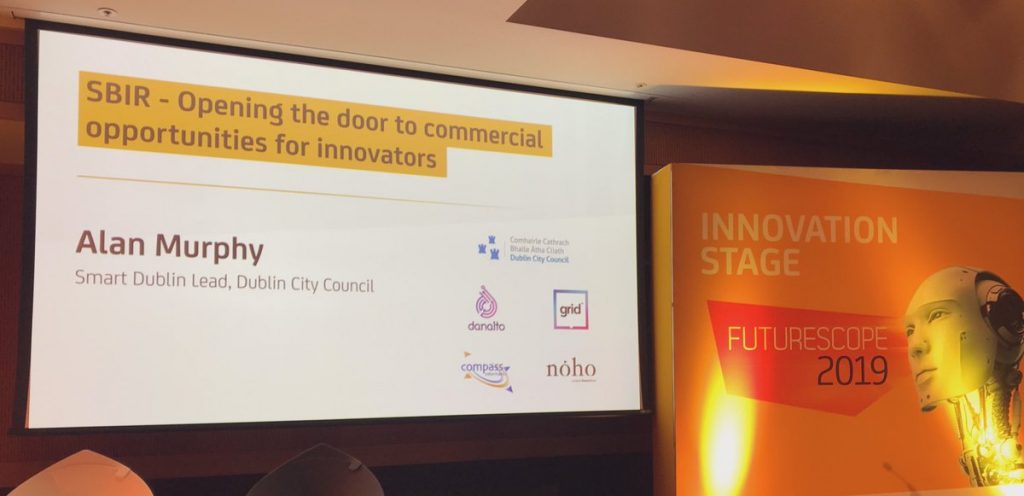 FutureScope is an important event on the Irish tech calendar bringing together some of the most exciting innovators on the scene. We're looking forward to the 2020 event already!