Seven Dun Laoghaire-Rathdown County Council projects shortlisted for Chambers Ireland Excellence in Local Government Awards
Back to News, Blogs & Events
Dún Laoghaire-Rathdown County Council has had projects shortlisted in seven different categories in the 16th annual Chambers Ireland Excellence in Local Government Awards, the state's most prestigious national awards competition for Local Authorities in Ireland. Of the seven shortlisted initiatives, two "smart" projects are nominated.
The Shortlist
Smart Sandyford, in Promoting Economic Development – Smart Project
dlr Online Grants Management System, in Local Authority Innovation – Smart Project
Electric Dreams, in Sustainable Environment
My Open Library at Deansgrange Library, in Best Library Service
Otranto Seaside Gardens, Sandycove, Co. Dublin, in Enhancing the Urban Environment
Changing Places, in Disability Services Provision
The Commemoration of the Centenary of the Sinking of the RMS Leinster, in Commemorations and Centenaries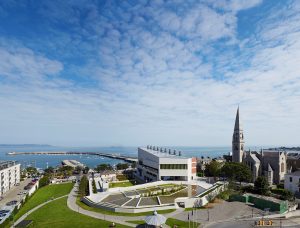 About the Smart Projects
Smart Sandyford
The Smart Sandyford programme seeks to develop Sandyford as a 'smart district', defined by engaging the district's commercial, public and private communities; implementation of appropriate IT-dependent strategic initiatives; and actively encouraging entrepreneurial activity. The programme will support the vision of the Sandyford Business Improvement District (SBID):
"Sandyford Business District provides a world-class, forward-thinking environment. Offering smart, considered benefits to the whole community enabling competitive advantages at work and a better quality of living to residents."
dlr Online Grants Management System
The goal of the Online Grants Management project is to switch from the current paper based system of community grant applications to an online, paperless system. This switch will ultimately benefit both service users (applicants) and dlr staff. The online system is expected to optimise the application process for users by automating aspects of the process such as; those associated with user profiles, total expenditure calculation and is also expected to increase the accessibility of the application process to a wider audience.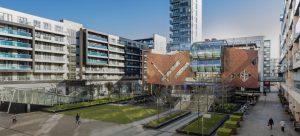 Speaking about the awards, An Cathaoirleach of Dún Laoghaire-Rathdown County Council, Cllr. Shay Brennan said,
"I would like to congratulate all those involved in the Dún Laoghaire-Rathdown County Council on being shortlisted for seven Awards in the Chambers Ireland Excellence in Local Government Awards. Being shortlisted for the national Awards demonstrate this Councils commitment to excellence and innovation in service delivery."
The Excellence in Local Government Awards are held in association with Chambers Ireland and the Department of Housing, Planning and Local Government. The winners will be announced at the 16th Annual awards ceremony 28 November 2019.
Further information on the awards can be found at https://www.chambers.ie/events/elg-awards/