How can AI help Smart Cities be more people-centric?
Back to News, Blogs & Events
Counting the number of thumbs-ups, likes and retweets have been the go-to measurement of how successful social media messages reach their audience. But what is the sentiment behind the text? What are people's real concerns, and how do they feel about them?
Smart Dublin, Dublin Economic Monitor and Citibeats have teamed up to capture, analyse and understand the opinions of Twitter users in the Dublin Region (Dublin City, Dún Laoghaire, Fingal and South Dublin).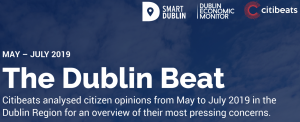 Click here for the full Dublin Economic Monitor and click here for The Dublin Beat-report May to July 2019
Each month public tweets are collated by the AI text analytics platform Citibeats, whose artificial intelligence algorithms have been trained for understanding opinions in the local context of Dublin. This can assist local authorities to better understand how local people feel about civic issues.
Over time, local authorities will be able to measure the changes in public social sentiment regarding infrastructure projects, public events, environment, mobility, tourism, housing and more. Doing so will assist authorities to harness the voices of the people in a way that is measurable, and help to inform new policies and actions.
For more information please contact Mainard Gallagher, Marketing and Creative lead, Smart City Dublin City Council at mainard.gallagher@dublincity.ie