Hack Access Dublin
Back to News, Blogs & Events
Hack Access Dublin is back for the 4th time to create a smarter and a more accessible city for people of all abilities!
Over the past 4 years of Hack Access Dublin we've seen various solutions like JumpOn , winners of 2018's hackathon and C-Park runner up in 2017, demonstrate how data-based solutions can help us to create a more enjoyable city experience for people of all abilities.
The solutions have helped people with disabilities plan ahead and make informed decisions about where to go and what to do in the city. Knowing how accessible each aspect of their journey is helps to reduce the stress of navigating historic cities like Dublin.
This point was made by some of the participants at the recent session we held with our partners and a group of people with diverse abilities to validate the challenges for Hack Access Dublin 2020.
The validation session is one of the most important milestones of the Hack Access Program, which is the program of initiatives our partners complete in the 6 month period up to the hackathon. This program has become the spine of Hack Access, the social enterprise Janice Valentine set up in the middle of last year, to maximise the impact of the Hack Access Dublin hackathon, which has been running in Google since 2016.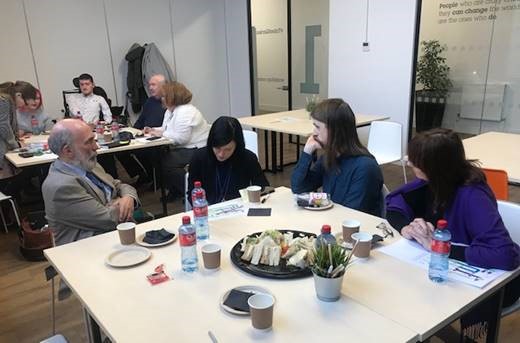 There was lots of constructive and honest discussion at the validation session about the experience people with diverse abilities have travelling through Dublin Airport and parking in the city. One of the participants, Saoirse Smith, who is a performer and has a disability, said "It was good to speak to the partners and talk about problems that we have with regards to access and it was good for them to listen to us and acknowledge those issues and agree with us. That was a big thing and it was great to do that". Cliona O'Sullivan from Dublin City Council said "I found it very valuable to be sitting at a table for the validation session, with people with various and diverse abilities and accessibility issues. The whole area of hidden disability especially was an area I knew very little about. I learned a huge amount".
Some of the positive outcomes from the session include a heightened understanding of the challenges someone with a hidden disability, like autism, has with standing in long queues at security or the gate and the lack of awareness about what services people of varying physical impairments and hidden disabilities are entitled to request.
I am excited to see what smart solutions participants of Hack Access Dublin 2020 will create to solve our partner's accessibility challenges from wayfinding at Dublin Airport to locating and parking in disabled parking spaces in Dublin's city centre!

This year there are 6 challenges for participants of Hack Access Dublin to hack. There are:
If you're interested in using your skills to #HackAccess on 21-23 February in Google, than please register to participate, click below