Guest Blog: See.Sense – European Mobility Week 
Back to News, Blogs & Events
The EUROPEANMOBILITYWEEK campaign seeks to improve public health and quality of life through the promotion of clean mobility and sustainable urban transport. The campaign gives people the chance to explore the role of city streets and to experiment with practical solutions to tackle urban challenges, such as air pollution.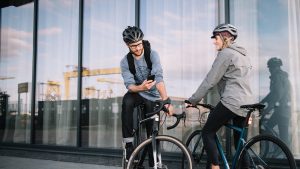 This year, EUROPEANMOBILITYWEEK 2018 focuses on 'multimodality' – the mixing of transport modes within the same journey or for different trips. Embracing the concept of multimodality means rethinking the way we move about our cities, and having the willingness to try out new forms of mobility, like public transport and cycling.
Dublin has been actively engaged with this agenda and has encouraged the rise of more multimodal journeys in the city through numerous projects and initiatives.
One such initiative saw the creation of the world's largest connected cycle light trial. This pilot project, with over 1,500 applicants, saw a total of 500 of Dublin's cyclists received See.Sense ICON lights in exchange for their agreement to collect and share their anonymised and aggregated insights.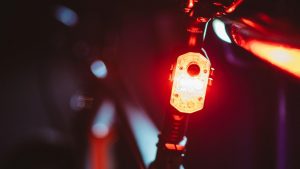 This innovation pilot project was funded through Enterprise Ireland Small Business Innovation Research (SBIR) program which enables public sector bodies to connect with innovative ideas and technology businesses, to provide innovative solutions for specific public sector challenges and needs. The learnings from the SBIR initiative have helped See.Sense develop their new commercial product, ACE. For the first time, all See.Sense customers will have the opportunity to share their insights and help improve cycling conditions where they live.
The pilot brought together cycling technology and data company, See.Sense, with Smart Dublin and Dublin City Council in a collaborative project that saw the collection of insights on over 6,862 journeys, with 33,942km travelled throughout the trial period.
"This pilot generated fantastic engagement with our cycling community with over 500 commuter cyclists taking part keeping them safer on their journeys in the city.  It also produced never-before-seen data and insights that going forward will aid planning for better cycle infrastructure and policies to increase the modal share of cycling in our city"
Jamie Cudden, Smart Cities Programme Manager, Smart Dublin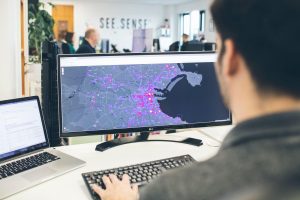 The See.Sense lights use patented sensor technology to keep a cyclist safer by monitoring their environment as they ride, flashing brighter and faster at moments of potential risk, i.e when approaching junctions, filtering in traffic and the lights can even detect approach car headlights.
These same sensors within the lights can also collect data on Road Conditions (surface quality), Safety (collisions and near miss) and Journey Mapping with the See.Sense companion app gathering Experiential information through in-app surveys. With 500 of these high tech bicycle lights moving through the city the pilot project realised a low cost (when compared to traditional methods of cycling data collection) city-wide sensor network, collecting multiple streams of data and providing rapid, in-depth baseline of cycling conditions which can be monitored over time.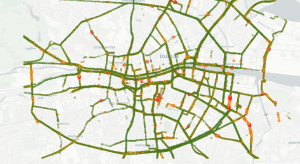 A full round-up of the See.Sense Dublin pilot project can be found here.
See.Sense have also deployed their technology in Manchester as part of CityVerve – the UK's largest smart city demonstrator project where the project continues to gain momentum as See.Sense work with Transport for Greater Manchester and others to enable positive change for cyclists in the city.