Guest Blog – 10 Reasons why Passel will probably move to Ireland
Back to News, Blogs & Events
Guest Blog from Marshall Hughes "one of the guys" from Passel

Following on from our successful entry into the Dublin and Belfast SBIR Last Mile Delivery program, in partnership with Enterprise Ireland, the next obvious step was for me to go to Dublin and Belfast.
After another week in Ireland and Northern Ireland, I will admit I am hooked. It's a different environment to Australia, and perhaps better suited to an early-stage startup like Passel.
So, without further ado, let's see if I can convince you as well.
Here are the top 10 reasons why Passel will probably move to Ireland.
1 – Open air malls
The major shopping districts of Belfast and Dublin are pedestrian friendly to an extent I have never seen in Australia. The areas around Grafton Street south of the river and Henry Street north of the river in Dublin, and between City Hall, Victoria Square and Castle Court in Belfast contain significant pedestrian-only malls.
This suits Passel because trucks and vans can't even get near the stores, while Passers are free to deliver on foot, by bike or even on public transport.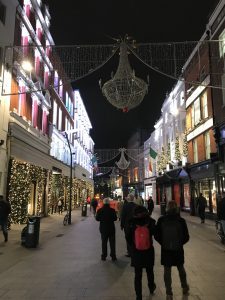 2 – Amazon
While Amazon still adopts a slow approach in Australia and fails to offer innovative shipping models, they are reportedly building 1,300 warehouses across Europe. The Amazon effect is real in Europe, and retailers cannot afford to sit on their hands and wait for their competitors to move first.
Passel enables retailers to leverage their unique advantage of a physical retail footprint to out-deliver everyone, all of the time, at a sustainable price customers will pay.
3 – European E-commerce is an order of magnitude bigger than Australia
In 2018, e-commerce sales in Western Europe will climb 11.6% to $381.58 billion.
Meanwhile, the Australian market is expected to be around $22 billion in 2018.
Maths isn't my best skill, but the European market appears to be growing by almost double the entire Australian market every year.
Bigger market = bigger problem = bigger opportunity
4 – Environmental awareness and action
While there is continued debate on action required to mitigate climate change in Australia, Europe is already making moves for deeper emissions cuts.
Passel's carbon neutral delivery model resonates with government authorities in Europe.
5 – Ireland is in Europe, the UK and the US
Regardless of the Brexit outcome (see below), Ireland is 3 countries for the price of one. There is no physical border between the Republic of Ireland and Northern Ireland, and there is no emotional border between Ireland and the east coast of the USA.
In fact, in Boston, someone born in Ireland can be referred to as FBI – Foreign Born Irish.
For a company with global ambitions, Ireland seems the logical choice.
6 – Garaiocht
Garaíocht is an Irish language term meaning: "the condition of being actively near and able to help."
Passel is a service where shoppers deliver to shoppers on their way home.
Passel = garaiocht!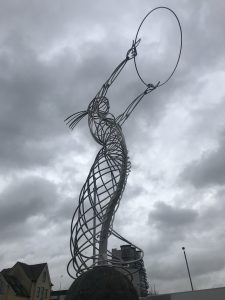 7 – Brexit
At the time of writing, the plan for Brexit is still up in the air. It might be a hard Brexit (heaven forbid), a no deal Brexit or a backstop Brexit. If you don't know what that all means, you are in the majority!
Startups thrive in times of uncertainty.
Passel is a hyperlocal community courier company focused on helping physical and omnichannel retailers better serve their local customers. We provide certainty and a guarantee while other companies have to keep an eye on the evening papers to learn their operating conditions.
8 – EI and INI
Enterprise Ireland and Invest Northern Ireland run with similar mandates.
Encourage local businesses to grow and hire more people.
They have numerous tools at their disposal, but the most important one is a willingness to support small to medium enterprises and startups.
Passel doesn't need a lot of help to get rolling, but a government-sponsored nudge here or there won't hurt!
9 – Dublintown and BelfastOne
I'm not sure if these organisations are unique, but I have been so excited to meet with local authorities that are working as hard as they can to support local brick and mortar retailers.
These groups are innovative and hungry to learn what can be done and especially keen to support anything that gives their stores an edge over foreign, or at least remote, pure online stores.
Not only is Passel democratising freight, but we are helping energise local shopping precincts.
Learn more about Dublintown and BelfastOne.
10 – The people
I can't always understand everything they say, but there is no mistaking the entrepreneurial energy and genuine eagerness to succeed that is bound up in the Irish psyche.
No favour is too much, and introductions to other helpful people are willingly offered.
The bug seems to have caught the ex-pat Aussies working in Ireland as well.
At our core, Passel is about people delivering to people. That all the people are nice makes the task all the more delightful.
And for the bonus point:
11 – The weather
I visited Dublin in early November. My favourite part of the weather image below is the 99% chance of rain at 10 am. Just a little bit of wriggle room for the meteorologist.
To be honest, my 100% English heritage leaves me poorly equipped to handle any weather warmer than about 26c. Even with climate change, my alabaster complexion will do just fine in a part of the world where the highest ever recorded temperature is 33c.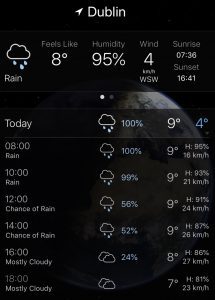 So, 10 reasons + 1.
Have I forgotten any? Not convinced? Happy to talk more.
Marshall