Following the success of the cycling challenge, we are launching three new SBIR competitions in partnership with Enterprise Ireland.
We are looking for smart and low-cost innovative solutions to tackle the problem of illegal dumping, to monitor and predict blocked gullies in high-risk flooding areas, and to design wayfinding solutions across the Dublin region.
Smart Dublin and the Grangegorman Development Agency are seeking innovative solutions that can deliver the following:
Improve wayfinding in a manner that can transition seamlessly between indoor and outdoor environments and allow users to arrive to their destination or appointment on time.
Enhance the experience of visitors
Reduce challenges for the users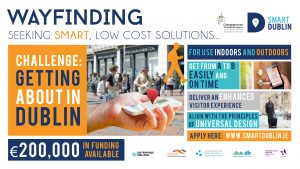 Robert Moore, Client BIM/Information Manager, Grangegorman Development Agency said  on the wayfinding challenge "We are seeking to find a creative solution to help people of all abilities, find their way seamlessly around the indoor and outdoor areas of the Grangegorman campus. This solution should reflect the open and interconnected nature of the new campus. We were soon joined by Smart Dublin as they could see the wider appeal to a solution to this challenge and how it could be utilised in a broader way across the region. Ultimately we are seeking a revolutionary navigation system for all."
There was a briefing session for all prospective applicants on the 12th May. It provided the opportunity to discuss the requirements of the brief with Enterprise Ireland, Smart Dublin and the Grangegorman Development Agency.
The challenge is open until 12th June 2017 at noon.
For more information on how to apply, please see eTenders.