Following the success of the cycling challenge we are launching three new SBIR competitions in partnership with Enterprise Ireland.  We are looking for smart and low cost innovative solutions to tackle illegal dumping, to monitor and predict blocked gullies in high risk flooding areas and to design wayfinding solutions in the Dublin region.
As the capital of Ireland, the Dublin Region is home to over 1.3 million people (City and Suburbs, 2016 Census). While local authorities no longer participate in domestic waste collection; they continue to provide waste and litter management services to the region. The cost of illegal dumping across the Dublin region is in excess of €1.5million euro each year. These costs have the potential to increase as further implementation of EU regulations continues and the costs of residential waste charges are set to rise.
Despite numerous attempts and campaigns from local authorities; there remains a failure to reduce the number of illegal dumping incidents across the Dublin Region.  We are now seeking low cost, innovative, tech solutions in the form of products, services or applications to tackle illegal dumping and fly tipping.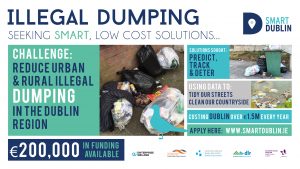 Simon Brock, Administrative Officer, Waste Management Services, Dublin City Council said about illegal dumping: "The problem of illegal dumping affects the urban, suburban and rural areas of the Dublin region. Finding solutions to this problem will not only improve the appearance and enjoyment of our environment but also reduce the significant costs associated with the removal and disposal of illegally dumped waste."
There was abriefing session for all prospective applicants on the 12th May. It provided the opportunity to discuss the requirements of the brief with Enterprise Ireland, Smart Dublin and the Grangegorman Development Agency.
The challenge is open for applications from 27th April until 12th June at noon.