Dublin's Liberty Bell is heading to the Rockies
Back to News, Blogs & Events
01/06/2017
Liberty Bell, from Dublin-based Fluidedge, one of the companies participating in our cycling challenge, has won an international US technology challenge run by the Colorado Department of Transport (CDOT).
The CDOT Bicycle and Pedestrian Challenge, called for inventive technological solutions to increase safety for cyclists and pedestrians in Colorado. These two groups account for 12 percent of the road accident fatalities across the state of Colorado each year.  Liberty Bell was one of the winners of the initiative and will receive an initial funding of  USD75,000 to deploy their solution in  the City of Boulder.
The Liberty Bell was designed in response to Smart Dublin's cycling challenge. It is a smart bluetooth bicycle bell and auditing system which allows city authorities gather insights into the experience of cycling in their city.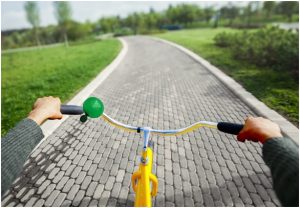 "One of the greatest barriers to cycling in Dublin is the perception of feeling unsafe as well as being unsafe", says Conor Cahill of Fluidedge. "We realised that it was important to understand the issues encountered by cyclists, while they were cycling. Given that it is difficult to interview someone on a bike, we needed a simple way to record and log issues that cyclists encountered. Liberty Bell is essentially a field research tool to gather qualitative data about the cycling experience."
"Cities really need a useful, cost-effective auditing system in order to understand and therefore improve the cycling landscape of a city", says Síle Ginnane. "That Boulder, Colorado, which is one of five Platinum standard Bicycling Friendly Communities in the USA, has embraced Liberty Bell and sees its value in improving their city for cyclists, is further validation."
Initial proof of concept trials of Liberty Bell were carried out in Dublin in 2016 with the help of the Dublin Cycling Campaign and An Taisce Green Schools. Larger trials of Liberty Bell, funded by Smart Dublin, will be run in Dublin City over the course of Summer 2017.
Volunteers are invited to participate in surveying their city by attaching a Liberty Bell to their bicycle.